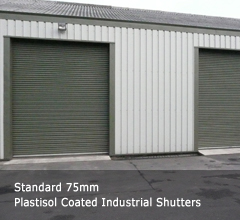 Standard 75mm Concave Lath Shutter Specification
Roller Curtains - Made of 75mm concave galvanised steel lath with pressed steel end locks fastened with steel rivets. At the base of the door is fitted a galvanised T-rail.
Angles and Side Guides - Side guides are constructed from either 65mm or 75mm galvanised channels. Galvanised steel angles of correct size are used to secure to the building.
Roller Barrel - Made of mild steel pipe of correct diameter and thickness to fit the shutter. Barrels are constructed to be in accord with an suitable safety appliance.
Roller Bracket Plates - Ranges of 6mm to 10mm in thickness, including proper cleats to attach to building.
Operation - We have a range of electronic motors and based on the use, 3-phase, 415 volt motors are conventionally used. Alternatively traditional hand chain operation is possible through gear reduction and spring counter balance barrels.
Finish - All of our products are galvanised. Sections that are non-galvanised are painted with primer. The roller shutters come in a selection of colours (plastisol). The entire door can be given a powder coating in an vast selection of colours. This technique is however not as long-lasting as plastisol.
Coil Canopys / Motor Covers / Fascias - All coil fascias, canopies and covers for motors for all products can be provided at extra cost. These are delivered galvanised unless otherwise specified.
Insulated Roller Shutters - Specification
Roller Curtain - Made from 100mm interlocking twin cold-rolled galvanized steel laths, including CFC-free insulation. Every lath is secured by nylon end locks which in turn are secured by steel rivets. The lowest lath includes a rubber seal.
Headseal - A nylon brushstrip of 100mm or 150mm is included to secure underneath the lintel. This forms a seal between the shutter curtain and the lintel.
Side Guides And Angles - To seal full height whilst including a twin vertical brush, a galvanized guide section is applied to both sides of each guide. Angles of mild steel of correct size are applied to give support to the guides.
Roller Barrel - As with Standard Shutter.
Operation - As with Standard Shutter.
Finish - As with Standard Shutter.
Coil Canopys / Fascias / Motor Covers - As with Standard Shutter.
Windows - Double glazed Perspex can also be integrated into the shutters at an extra cost that will be agreed prior to work commencing.
Value of Insulation = 0.69 W/mēC - Value of Acoustic = 18 DBA