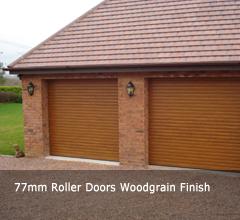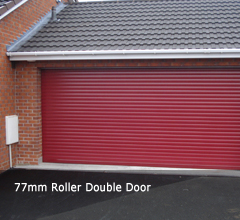 77mm Domestic Garage Roller Doors
77mm domestic roller security doors are created to specific measurements and from interlocked insulated (foam filled) laths of aluminium. They have rubber bottom weatherstips, large 75mm or 90mm channels for guidance and double brush seals in the guides. This prevents draughts extremely well. More details include:
Manufactured using double skinned insulated 77mm interlocking aluminium lath sections, providing the best security.
A range of colours including wooden grain finishes.
Strengthened lower section for extra rigidity. This comes inclusive of a heavy duty seal (lower).
Strengthened aluminium side track system which comes colour coated with double-brush seals.
The head plate is specifically designed for roller door systems by being strengthened and colour coated.
Standard complete box cover hiding the mechanism comes ready, created from aluminium which is powder-coated increasing safety.
In case of a power cut, the motor system comes inclusive of a manual over-ride facility.
Remote receiver unit including a top of the range security system, includes a built-in light function.
Receiver unit comes finished with an integral operating switch.
Comes with a choice of bottom seal on the contact strip, safety device or photo electric cell.
As standard, a locking system to ensure the door is locked when in a closed position.